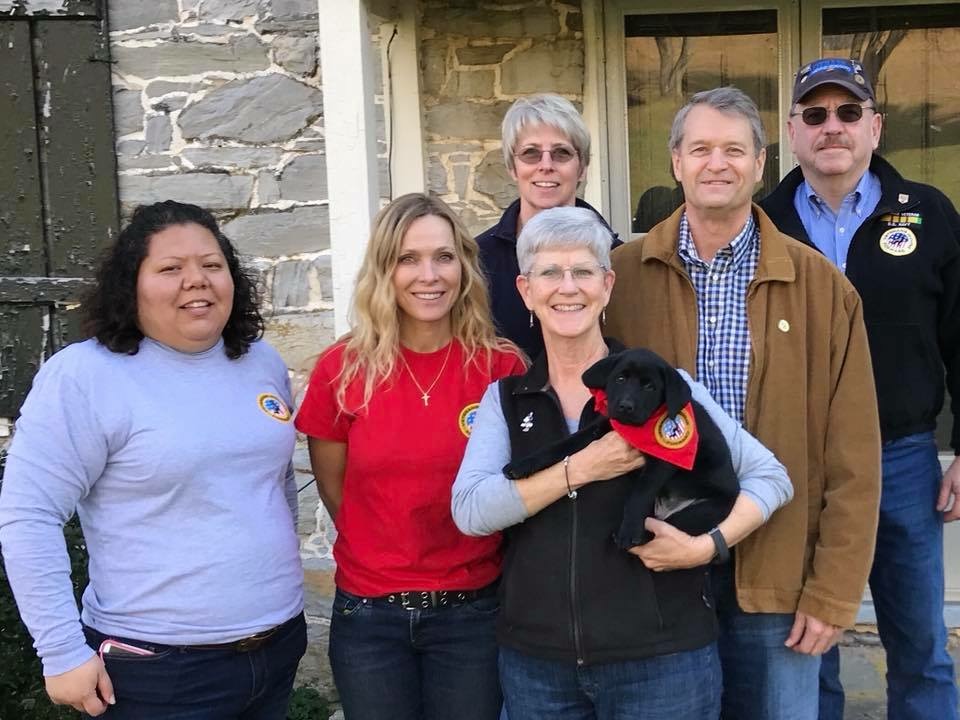 We are so very proud to have one of our puppies placed with Veterans Moving Forward!
Each puppy placement is special to us but, having placed a dog with VMF is something extra special!
Visit VMF at https://vetsfwd.org/
Read more about VMF below.
Veterans Moving Forward Inc. (VMF). VMF is a 501(c)(3) nonprofit organization that raises and provides service dogs for veterans, with physical and/or mental health challenges, at no cost to the veteran.
VMF provides service dogs to veterans of any generation that served honorably, have a physical and/or mental health challenge, and can benefit from and qualify for a VMF service dog.
Eligible veterans are those veterans of any age, who served honorably, whose disability is a result of military operations and/or accident or disease experienced during or subsequent to their military service, and who lives in the continental United States.
Certificate of Completion
Our on-going effort to improve our breeding program led Sandy to participate in an Avidog Breeder's Workshop back in February. The workshop was educational, informational, and inspirational. This led us to invest in the Avidog course, Introduction to Transformational Dog Breeding.  The course was in-depth and intense. We are pleased to announce that Sandy successfully completed the course and has been awarded a Certificate of Completion.
With this course under her belt, Sandy is now working her way through the Avidog course, Your Litter from A to Z. The timing of this course coincides with Tilly's current pregnancy. In addition, Sandy is studying the Avidog methods for puppy rearing and puppy evaluation.
We are very excited about the positive changes coming to our breeding program.
A New Obedience Title For Sweet Annie
On December 3rd, at the Catoctin Kennel Club's Obedience Trial, Annie completed her final "leg" of the AKC (American Kennel Club) BN (Beginner Novice) title. Annie not only qualified but, finished the title with a strong First Place finish. We are very proud of RBRandL Sweet Annie of Cresthill CGC BN.
Success in the Obedience Ring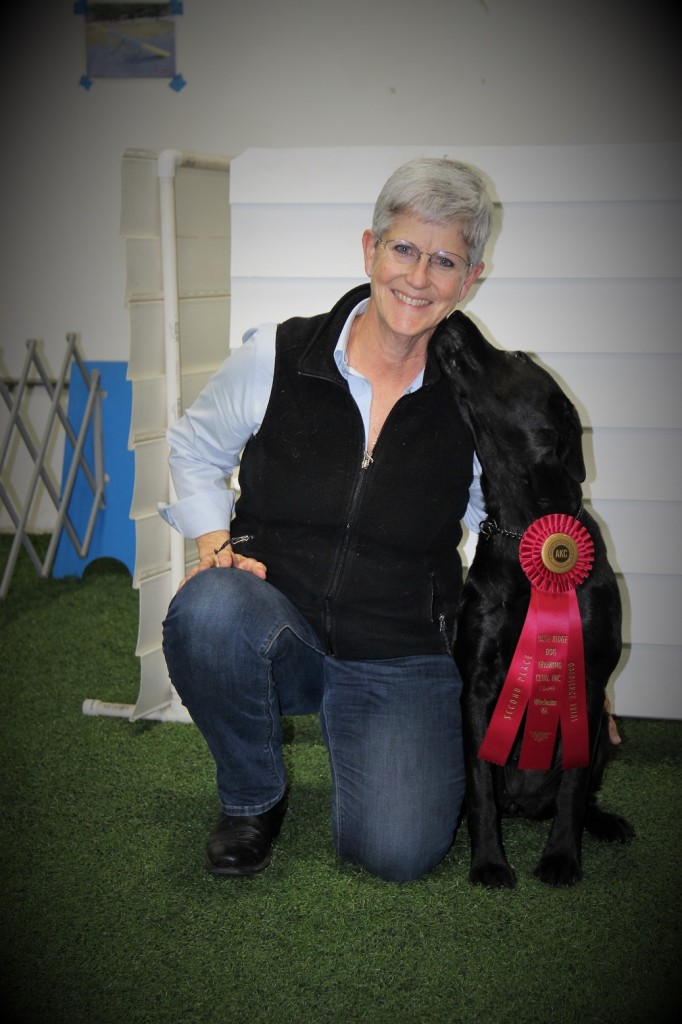 Sandy and Annie recently competed in an American Kennel Club Obedience Trial, entering the Beginner Novice class. The trial was held at the Blue Ridge Dog Training Club in Winchester, VA. The trial was a two day trial and the girls were entered both days.
We are very pleased to report that Sandy and Annie met with great success. Their Saturday run resulted in a qualifying score and a 2nd Place finish. They were called back into the ring on Sunday for a run-off and ended up with another qualifying score and a 1st Place finish. Scores for each day are personal bests for Sandy.
Sandy was a real trooper, competing despite being hard hit by the stomach  flu. Annie was rock-steady! Their training is paying off in the ring and we are very proud of them both. Two 'legs' down and one to go!
Annie Earned A Ribbon – Canine Good Citizen!
We are pleased to announce that Sandy and Annie participated in the American Kennel Club's Canine Good Citizen Test on Wednesday, 19 October, at the Blue Ridge Dog Training Club, and Annie passed with flying colors. Way to go Annie.
Puppy Pick-Up Day is always a day filled with joy and happiness. On Tuesday, it brought us a delightful surprise in the form of a former professional baseball player, turned professional jazz musician. Imagine our surprise when Bernie Williams, stand-out player for the New York Yankees, and wonderful person all-around, arrived to pick-up a puppy. Actually, Sandy had no idea that Bernie was a celebrity when he arrived. His girlfriend had made all of the arrangements to purchase a puppy and Sandy was delighted to be placing a puppy in her home.
During the course of our pick-up procedure the 'truth' revealed itself but, Sandy still had no idea the extent of Bernie's accomplishments. It wasn't until Sandy introduce Bernie to Chris and she made the comment, "He played for the Yankees", that things came into a new light. Chris asked Bernie's full name and when he heard "Bernie Williams", his face lit up and he said, "I was a fan". Chris later told Sandy that Bernie was "one of the good guys" and "an incredible player". Of course, Sandy started Googling Bernie and that is when we learned he is also an accomplished musician. His music is incredible!!!!
We are delighted with each placement from our most recent litter of puppies but, having made this placement is a little extra special!