We are pleased to announce that Sandy has fulfilled the requirements prescribed by the IACP Dog Trainer Certification Committee and has been granted a Certificate of Completion as a Certified Dog Trainer.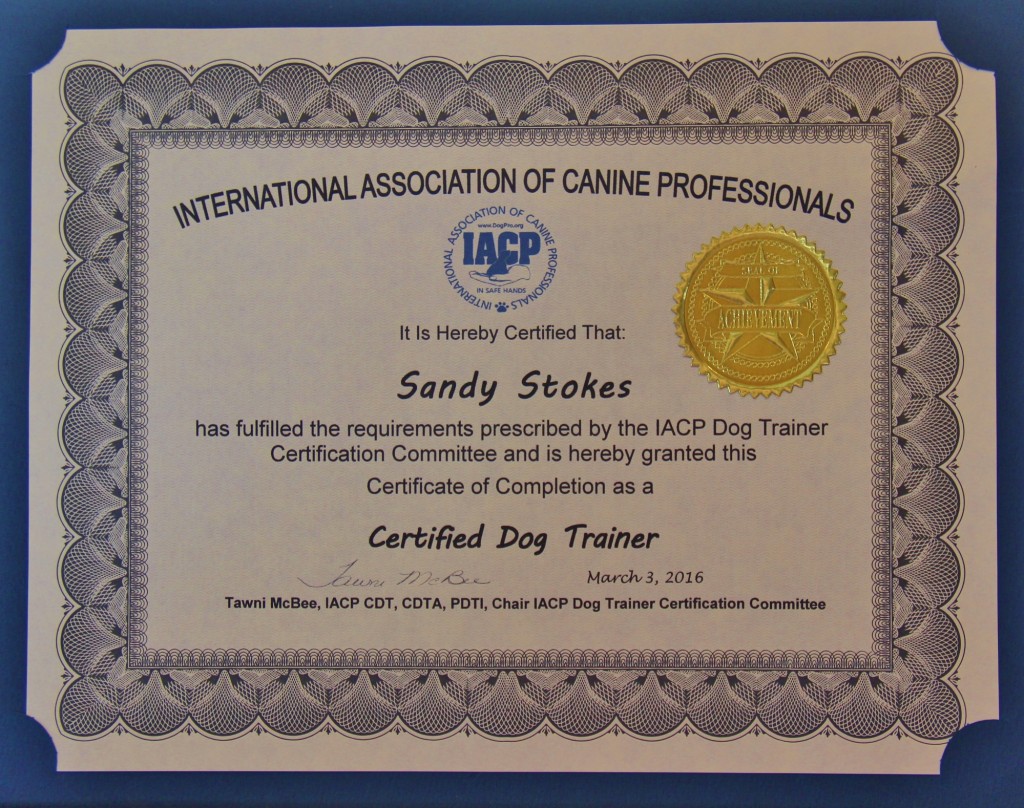 Always seek professional veterinarian advice in the event of illness or injury to your pets. However, we do recommend being prepared for any emergency you might face. The following materials are suggested items to include in a Canine First Aid Kit.
Bandaging Materials:
Adhesive tape (1″ or 2″ wide)
Roll Cotton (for padding a possible fracture)
Cohesive Bandage (Vet Wrap or Elastic Bandage)
Gauze in a roll (3″ or 4″ wide)
Gauze squares (3″ or 4″ square)
Stockinet (2″, 3″, or 4″ wide)
Absorbent Pads
Equipment:
Cold Pack
Scissors
Syringes (to administer medications)
Thermometer
Tweezers
Hemostats (large ans small)
Gastric Tube (piece of hose about 3 feet long with smooth ends)
Gauze for Muzzle (2″ wide roll of gauze)
Or a Soft Muzzle
Blanket/Solar Blanket
Flash light
Medications:
Antibiotic cream for cuts and abrasions
Aspirin (enteric coated, 5 grain per 35 lbs. every 12 hours, only two doses)
Athlete Foot Powder (for ears after swimming)
Benedryl (25-50 mg every 8 hours)
Diarrhea medication (Immodium HCL 2 mg per 30 lbs. every 8 hours)
Hydrogen Peroxide (up to 1 oz. orally, repeated only if needed to induce vomiting)
Hydrogen Peroxide (to cleanse cuts)
Supplies:
Alcohol Swabs
Antibacterial soap (soap safe on wounds)
Cotton Swabs
Lubrication Jelly
Saline Solution
Poison Control:
Animal Poison Hotline – a joint service provided by North Shore Animal League America (NSAL) and PROSAR International Animal Poison Center (IAPC).

1-888-232-8870 ($35.00 per incident). The charge is billed to caller's credit card only. Staffed 24-hours a day, 7 days a week.