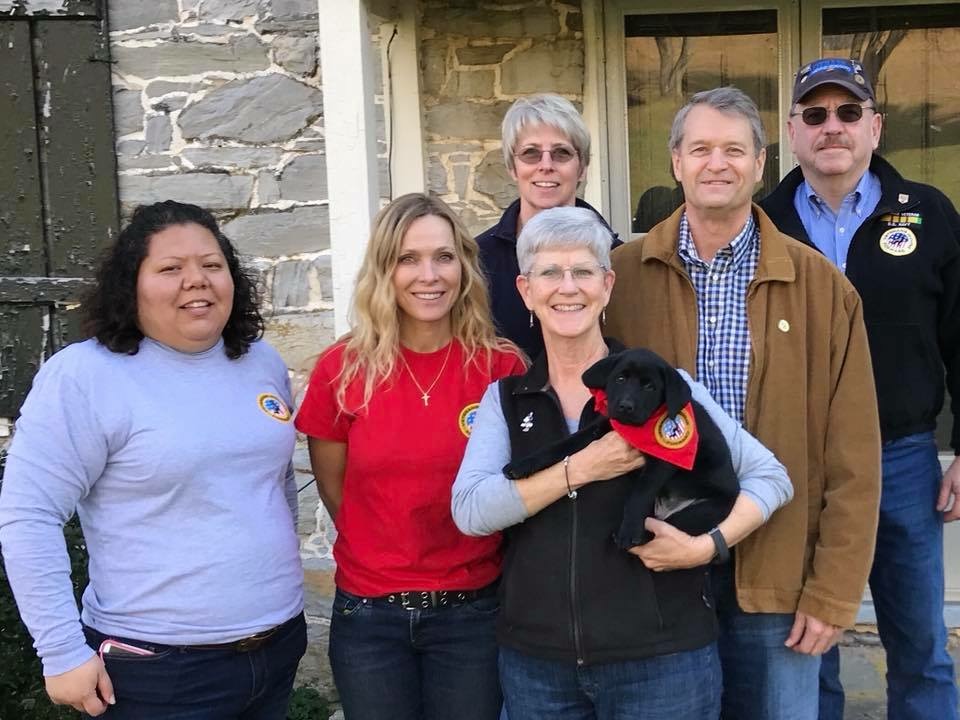 We are so very proud to have one of our puppies placed with Veterans Moving Forward!
Each puppy placement is special to us but, having placed a dog with VMF is something extra special!
Visit VMF at https://vetsfwd.org/
Read more about VMF below.
Veterans Moving Forward Inc. (VMF). VMF is a 501(c)(3) nonprofit organization that raises and provides service dogs for veterans, with physical and/or mental health challenges, at no cost to the veteran.
VMF provides service dogs to veterans of any generation that served honorably, have a physical and/or mental health challenge, and can benefit from and qualify for a VMF service dog.
Eligible veterans are those veterans of any age, who served honorably, whose disability is a result of military operations and/or accident or disease experienced during or subsequent to their military service, and who lives in the continental United States.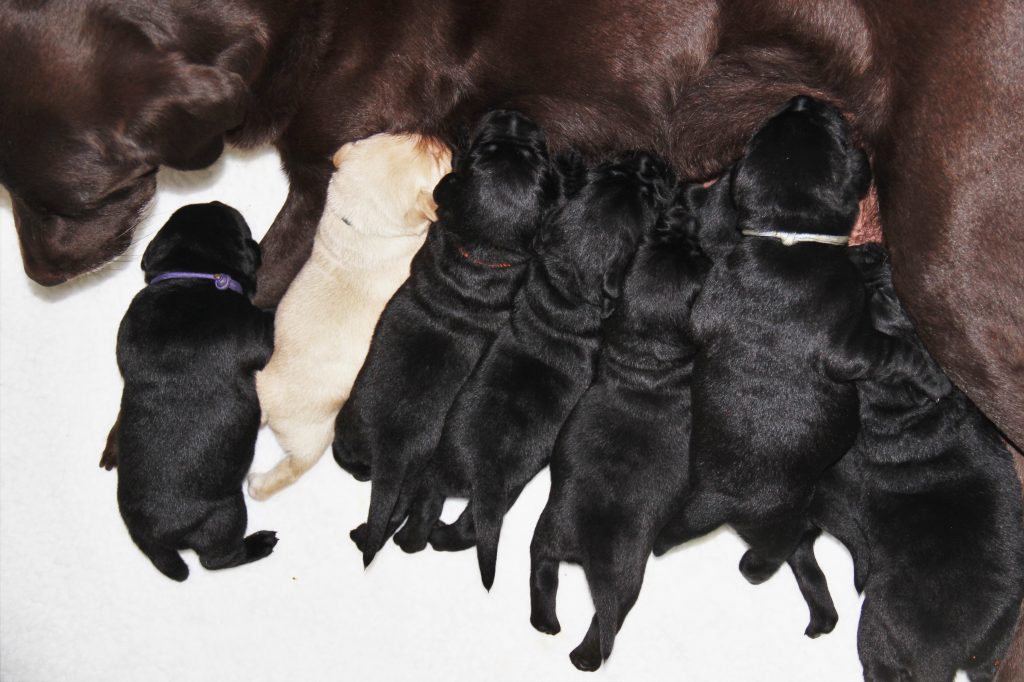 We have a litter of nine lovely Labrador Retriever puppies, born 5 October 2017. Of the two yellow puppies, one is male and the other female. Of the seven black puppies, three are male and four female. Tilly is an excellent mother and the puppies are thriving.
We have completed ENS (Early Neurological Stimulation) and ESI (Early Scent Introduction) and will continue to rear these puppies following the Avidog protocol. Our goals in following this protocol is to develop sound, stable puppies.
We are accepting deposits on this litter. If you are interested in learning more about these puppies or our breeding program, please visit our Breeding Program page here on our website. These puppies will be ready for their new homes on 2 December 2017.
Bolo X Tilly 2016 Litter – What Owners Have To Say
Marshall is healthy, happy, and simply a joy to have around. He is a lover Lab! He has trained easily, is very smart, and obedient. His attitude and disposition are a tribute to the breeding, your efforts (from even pre-Day 1), and your entire breeding approach.
Edie and I recommend you and the RBRandL program without reservation or hesitation.
Tom W. – West Virginia
We absolutely love and adore our boy Jed!  From the time we met Sandy before the Bolo x Tilly pups were even conceived, I knew Sandy had a true passion for breeding sound, healthy Labs.  Her extensive experience with the breeding process and raising puppies in those early weeks was evident from the beginning.  I was confident we were going to add a wonderful Lab to our family.
Jed is a lovable, energetic, and very sociable dog. He instantly adores everyone he meets!   He's a delight to train as he catches on quickly and has an eagerness to learn. Jed is a wonderful family companion and such a gentleman in the house.  He is often just content lying on the floor as long as he's by our side and he always loves a good jowl massage!    He loves hikes, jogs around the neighborhood, and off leash play with other dogs.  One of his favorite activities is finding treats scattered within the grass in our backyard.  He can find a hidden treat anywhere! His sense of smell is amazing.
Jed has been a healthy pup right from the start.  His beautiful shiny coat looks like velvet.  We often get compliments on what a handsome dog he is and we couldn't agree more.  Jed's face is the cutest thing to wake up to everyday!
We have been so happy with our RBRandL pup.  Jed has been a wonderful addition to our family!
Shannon M. – Maryland
We just love her!
Tammy C. – West Virginia
Besides being very professional, our experience with RBRandL was also friendly and enjoyable. Once Sandy saw a good potential home for one of her puppies in me and my boyfriend, we were treated as if we were her own family. If I were to describe the RBRandL breeding program in just a few words, they would be, "Love, Trust, Quality, Expertise, and Vibrant Health". We will never forget this special experience.
It took me about 2 years to find the right breeder, one who does it "right". Sandy's philosophy about breeding and her holistic approach, including an appropriate raw diet, makes the RBRandL dogs healthy, emotionally stable, happy, and truly beautiful! I wish that everybody we have to deal with on a daily basis could be as wonderful as Sandy and her husband, Chris.
The fact that we drove all the way from Connecticut to West Virginia to pick up our beloved Bowie, who is now a little over one-year old, speaks for itself. The trip was well worth it. We gained not only the best Labrador puppy, so healthy, with the best personality, naturally obedient, extremely smart and loving, but also wonderful friends in Sandy and Chris. Their place is a true paradise, especially for their Labradors! I would never get a Labrador anywhere but from Red Barn Ranch and Labradors, LLC.
Now, about our puppy, Bowie. He is a Bolo X Tilly puppy from Sandy's 2016 litter. Bowie is a very special boy. He is very healthy, strong confident, always happy and in the mood for fun. He's also the most cuddly and empathetic dog. He seems to understand everything going on around him. He is very alert and eager to learn, extremely agile, with amazing senses. Bowie brings happiness, love, and great humor in our everyday lives. We love him! One more thing, Bowie loves to swim. Thanks to Sandy and Chris, who introduce all their puppies to water at the right age and in the right way, Bowie never had a problem or any fear because water was nothing new to him.
I keep in touch with the owner of another puppy from Bowie's litter, his brother, Jed, and we share identical experiences with our dogs. They even look identical!
You will get an absolutely amazing dog from Red Barn Ranch and Labradors, LLC. The rest is up to you!
Monika P. – Connecticut
Our experience with Red Barn Ranch has been incredibly positive. We approached Sandy looking for a family dog, one that would be a good companion animal and playmate for our two small children, and would do well in our small, child- and pet-friendly community. She took such great care selecting the perfect dog for us–we were able to bring our kids to meet the litter, and both times the little yellow male crawled over and nuzzled up to us, unprompted. When the day came to pick up our puppy, we were thrilled to see he was our match. The puppies and Tilly were clearly well-loved and received excellent care. Since bringing Lemmy home, we have returned several times so he could receive his first-round vaccines, and even boarded him at Red Barn  a couple times. He was happy, content, and well-exercised upon pickup, and always happy to see Sandy and the dogs. The love and care shown to the Red Barn dogs is evident, and clearly extends to the puppies from birth onward.
Lemmy bonded with us on day one, and has always been patient, gentle, and loving with every member of the household. He's an extremely friendly, playful, good-natured animal, who loves cuddling up on the couch (and being the kids' pillow) as much as he loves running and playing in the yard. He enjoys daily walks to drop off and pick up our son at school, and loves the attention he gets from the other kids and parents.
Lemmy is a very bright and healthy dog, who quickly learned his name and basic commands, and now recognizes and responds to many spoken words (some of his favorites: food, treat, walk, outside, daddy). He was extremely easy to housebreak and crate train, and never regressed  behaviorally on any level. Though he had some initial issues with chewing and eating things that shouldn't be chewed or eaten, he has since learned to stick to chewing his toys, instead of the children's toys. During his first year, he never showed aggression toward people or other animals, and only recently started alerting us to unexpected visitors or passing dog walkers with a single bark. He is very attentive to "the pack" when we take him on family walks and outings; we think he'll grow to be a great protector. In the meantime, Lemmy is a much loved member of our family.
Eva G. – Virginia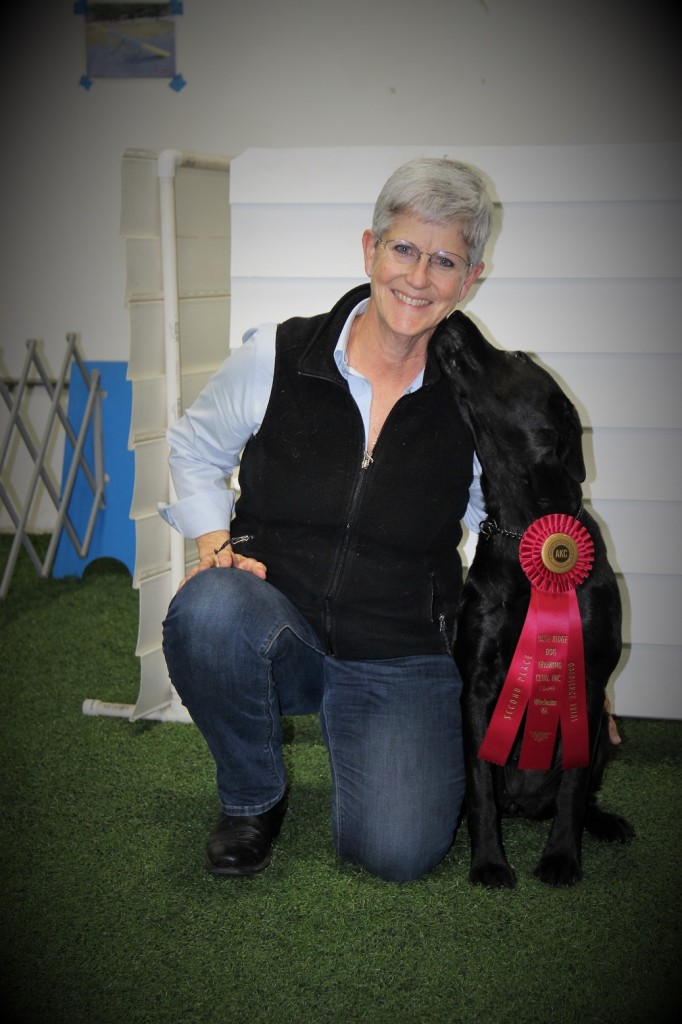 Sandy and Annie recently competed in an American Kennel Club Obedience Trial, entering the Beginner Novice class. The trial was held at the Blue Ridge Dog Training Club in Winchester, VA. The trial was a two day trial and the girls were entered both days.
We are very pleased to report that Sandy and Annie met with great success. Their Saturday run resulted in a qualifying score and a 2nd Place finish. They were called back into the ring on Sunday for a run-off and ended up with another qualifying score and a 1st Place finish. Scores for each day are personal bests for Sandy.
Sandy was a real trooper, competing despite being hard hit by the stomach  flu. Annie was rock-steady! Their training is paying off in the ring and we are very proud of them both. Two 'legs' down and one to go!