Bolo X Tilly 2016 Litter – What Owners Have To Say
Bolo X Tilly 2016 Litter – What Owners Have To Say
Marshall is healthy, happy, and simply a joy to have around. He is a lover Lab! He has trained easily, is very smart, and obedient. His attitude and disposition are a tribute to the breeding, your efforts (from even pre-Day 1), and your entire breeding approach.
Edie and I recommend you and the RBRandL program without reservation or hesitation.
Tom W. – West Virginia
We absolutely love and adore our boy Jed!  From the time we met Sandy before the Bolo x Tilly pups were even conceived, I knew Sandy had a true passion for breeding sound, healthy Labs.  Her extensive experience with the breeding process and raising puppies in those early weeks was evident from the beginning.  I was confident we were going to add a wonderful Lab to our family.
Jed is a lovable, energetic, and very sociable dog. He instantly adores everyone he meets!   He's a delight to train as he catches on quickly and has an eagerness to learn. Jed is a wonderful family companion and such a gentleman in the house.  He is often just content lying on the floor as long as he's by our side and he always loves a good jowl massage!    He loves hikes, jogs around the neighborhood, and off leash play with other dogs.  One of his favorite activities is finding treats scattered within the grass in our backyard.  He can find a hidden treat anywhere! His sense of smell is amazing.
Jed has been a healthy pup right from the start.  His beautiful shiny coat looks like velvet.  We often get compliments on what a handsome dog he is and we couldn't agree more.  Jed's face is the cutest thing to wake up to everyday!
We have been so happy with our RBRandL pup.  Jed has been a wonderful addition to our family!
Shannon M. – Maryland
We just love her!
Tammy C. – West Virginia
Besides being very professional, our experience with RBRandL was also friendly and enjoyable. Once Sandy saw a good potential home for one of her puppies in me and my boyfriend, we were treated as if we were her own family. If I were to describe the RBRandL breeding program in just a few words, they would be, "Love, Trust, Quality, Expertise, and Vibrant Health". We will never forget this special experience.
It took me about 2 years to find the right breeder, one who does it "right". Sandy's philosophy about breeding and her holistic approach, including an appropriate raw diet, makes the RBRandL dogs healthy, emotionally stable, happy, and truly beautiful! I wish that everybody we have to deal with on a daily basis could be as wonderful as Sandy and her husband, Chris.
The fact that we drove all the way from Connecticut to West Virginia to pick up our beloved Bowie, who is now a little over one-year old, speaks for itself. The trip was well worth it. We gained not only the best Labrador puppy, so healthy, with the best personality, naturally obedient, extremely smart and loving, but also wonderful friends in Sandy and Chris. Their place is a true paradise, especially for their Labradors! I would never get a Labrador anywhere but from Red Barn Ranch and Labradors, LLC.
Now, about our puppy, Bowie. He is a Bolo X Tilly puppy from Sandy's 2016 litter. Bowie is a very special boy. He is very healthy, strong confident, always happy and in the mood for fun. He's also the most cuddly and empathetic dog. He seems to understand everything going on around him. He is very alert and eager to learn, extremely agile, with amazing senses. Bowie brings happiness, love, and great humor in our everyday lives. We love him! One more thing, Bowie loves to swim. Thanks to Sandy and Chris, who introduce all their puppies to water at the right age and in the right way, Bowie never had a problem or any fear because water was nothing new to him.
I keep in touch with the owner of another puppy from Bowie's litter, his brother, Jed, and we share identical experiences with our dogs. They even look identical!
You will get an absolutely amazing dog from Red Barn Ranch and Labradors, LLC. The rest is up to you!
Monika P. – Connecticut
Our experience with Red Barn Ranch has been incredibly positive. We approached Sandy looking for a family dog, one that would be a good companion animal and playmate for our two small children, and would do well in our small, child- and pet-friendly community. She took such great care selecting the perfect dog for us–we were able to bring our kids to meet the litter, and both times the little yellow male crawled over and nuzzled up to us, unprompted. When the day came to pick up our puppy, we were thrilled to see he was our match. The puppies and Tilly were clearly well-loved and received excellent care. Since bringing Lemmy home, we have returned several times so he could receive his first-round vaccines, and even boarded him at Red Barn  a couple times. He was happy, content, and well-exercised upon pickup, and always happy to see Sandy and the dogs. The love and care shown to the Red Barn dogs is evident, and clearly extends to the puppies from birth onward.
Lemmy bonded with us on day one, and has always been patient, gentle, and loving with every member of the household. He's an extremely friendly, playful, good-natured animal, who loves cuddling up on the couch (and being the kids' pillow) as much as he loves running and playing in the yard. He enjoys daily walks to drop off and pick up our son at school, and loves the attention he gets from the other kids and parents.
Lemmy is a very bright and healthy dog, who quickly learned his name and basic commands, and now recognizes and responds to many spoken words (some of his favorites: food, treat, walk, outside, daddy). He was extremely easy to housebreak and crate train, and never regressed  behaviorally on any level. Though he had some initial issues with chewing and eating things that shouldn't be chewed or eaten, he has since learned to stick to chewing his toys, instead of the children's toys. During his first year, he never showed aggression toward people or other animals, and only recently started alerting us to unexpected visitors or passing dog walkers with a single bark. He is very attentive to "the pack" when we take him on family walks and outings; we think he'll grow to be a great protector. In the meantime, Lemmy is a much loved member of our family.
Eva G. – Virginia
Puppy Pick-Up Day is always a day filled with joy and happiness. On Tuesday, it brought us a delightful surprise in the form of a former professional baseball player, turned professional jazz musician. Imagine our surprise when Bernie Williams, stand-out player for the New York Yankees, and wonderful person all-around, arrived to pick-up a puppy. Actually, Sandy had no idea that Bernie was a celebrity when he arrived. His girlfriend had made all of the arrangements to purchase a puppy and Sandy was delighted to be placing a puppy in her home.
During the course of our pick-up procedure the 'truth' revealed itself but, Sandy still had no idea the extent of Bernie's accomplishments. It wasn't until Sandy introduce Bernie to Chris and she made the comment, "He played for the Yankees", that things came into a new light. Chris asked Bernie's full name and when he heard "Bernie Williams", his face lit up and he said, "I was a fan". Chris later told Sandy that Bernie was "one of the good guys" and "an incredible player". Of course, Sandy started Googling Bernie and that is when we learned he is also an accomplished musician. His music is incredible!!!!
We are delighted with each placement from our most recent litter of puppies but, having made this placement is a little extra special!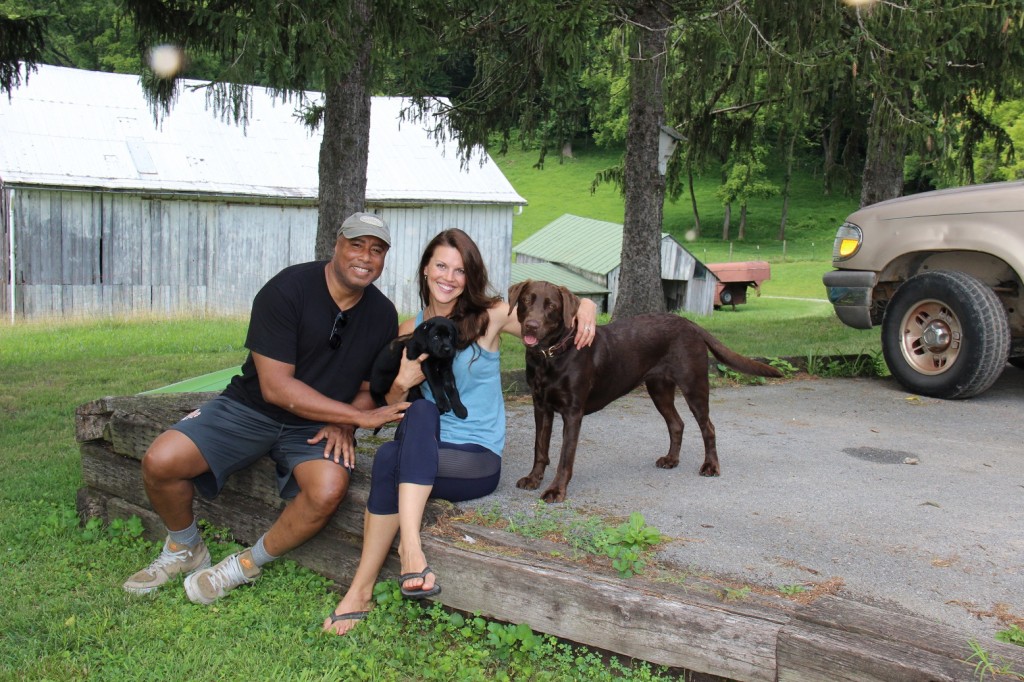 This is Huck. He's a pup from our May 2012 Chivas x Bella litter. As with all our puppies, Huck was weaned onto Volhard Dog Nutrition's NDF2. He was thriving and in excellent health when we was delivered to his new owners. They had concerns about feeding a raw diet to a dog and came to the decision to switch Huck to dry kibble. Huck experienced intestinal difficulties and his owners endured extremely high vet bills trying to get Huck's gut back in order. After researching raw diets Huck's owners came to the decision to put Huck back on NDF2 and we are happy to report that he's doing just fine. Read on for Huck's story in his owner's words. Thanks to Jen & Deb for sharing this success story.
We got our Lab, Huck, from Bella's last litter May 2012.  My spouse and I were new to having a *brand new* puppy as our other dogs were rescued as adults.  It's been a real learning experience.  When Huck got a bad case of giardia I blamed the raw diet since I honestly knew nothing about it.  I thought at first it sounded weird and unhealthy.  Humans can't eat raw meat, with all the bacteria and what not in it, so how could my dog?  So when he got giardia, and kept having it no matter how much Flagyl and panacur we put him on, I blamed the raw diet.  We put him on "sensitive tummy" vet ordered kibble and wet food.  He got worse.  By the end of summer we figured out we had treated him for giardia about 8 times and had spent several thousand dollars in vet bills and meds for all 3 of our dogs (the older ones having contracted giardia as well).  I finally realized that meds alone were not going to make my Huck healthy again and that we needed to rethink how we could heal his little gut.
 I did my own research online about a raw diet for dogs and was surprised at how much sense it made.  I read the average time to digest the hard kibble is 10-14 hours and then it dawned on me that Huck was sometimes vomiting up his morning kibble in the late afternoon and it made sense.  How can he have a healthy gut, let alone rid himself of something like giardia, when that stuff is sitting in there all day long?!  It can't.  A raw diet digests right within an hour to two.  So I made the choice to slowly restart the raw diet using smaller amounts and then gradually building back up to the full amount.  That was about 3 months ago and he hasn't had a recurence since.  He's energetic, he LOVES his food (which occasionally also includes bugs and People magazines but we can live with that), his poop is normal, and the vet said he's the perfect example of a Lab. 🙂  We are quite proud of that one.
 As for how he got giardia, we think it might have been when we took him to a dog park as a puppy.  We thought we were doing the right thing exercising him and socializing him this way but now we understand his immune system wasn't ready for that quite yet.  Learn from our inexperience and hold off on that until they are ready. 
 Jenny and Deb Armstrong and Huck 🙂
Molly Bear of Highland Springs
We received the sad new today that Molly Bear of Highland Springs has crossed the Rainbow Bridge. Molly was a pup from our very first litter and sister to our sweet Gracie. Molly's owners have become dear friends and we grieve their loss. Molly was loving and loyal and brought many years of happiness to her family.
The following message accompanied the notice we received from Bob & Joan: "We are so thankful to you for the opportunity to share our lives with such a wonderful girl and for all the times she returned to you, her other family, while we traveled. She was a one of a kind. We had no idea we could love a dog so much."
Sandy found the following prayer today searching the internet:
A Parting Prayer
Dear Lord, Please open your gates and call St Francis to come and escort this beloved companion across the Rainbow Bridge.
Assign her a place of honor, for she has been a faithful servant and has always tried to please me.
Bless the hands that send her to you, For they do so in love and compassion freeing her from pain and suffering.
Grant me the strength not to dwell on my loss. Help me remember the details of her life with the love she has shown me
and grant me the courage to honor her by sharing these memories with others.
Let her remember me well. Let her know I will always love her and when it is my time to pass over into your paradise please allow her to accompany those that will bring me home. Thank You Lord for the gift of her companionship and the time we've had together.
And Thank You Lord for granting me the strength to give her to you now.
Peace.
Anonymous
Saturday, 23 March 2013 was a great day for RBRandL Buck 110 as he earned the UKC Title "HRCH".
What is required to earn the HRCH title?
Finished level hunt test (HRCH title)
An overview of what you can expect in a Finished level hunt test:
One land blind
One water blind
One triple land mark (a triple mark is defined as three marks presented before the dog is sent to retrieve.)
One triple water mark.
One diversion shot and/or retrieve
A walk-up.
A dog shall be required to honor a working dog.
Dogs must be steady on the line
Dogs must retrieve to hand
How to gain a HRCH title: Fifteen (15) Championship points per UKC Hunt test are awarded for those dogs who pass all Finished Hunting Retriever tests. The Hunting Retriever Champion (HRCH) title is attained by earning one hundred (100) Championship Points. Sixty (60) of the one hundred (100) points must be earned from the Finished category. Points can be earned in Started, Seasoned or Finished. Therefore if a dog has a HR title, they are required to pass 4 finished hunt tests.
As you can see, Buck and his owner/trainer/handler, Ernie Matacotta, have worked hard to achieve this goal. We are proud of Buck and are pleased to have Ernie and Buck represent Red Barn Ranch and Labradors, LLC.
Obedience Training Pays Off
We received the following message from a puppy client that is also a training client:
I was mowing the lawn earlier today, wearing head phones for hearing protection. The dogs had been out in the driveway waiting for someone to venture down our lane so they could give the warning bark. Since I could not hear the calamity unfolding Duke caught my attention by running to alert me that Dutch was in peril.
Dutch had caught sight of a red fox crossing the last 1 acre corner of our 10 acres and took flight . Having never seen one in her first year of life and not being an aggressive dog, she no doubt was chasing it because it was running and looked like it would be 'fun' to chase.
The fox was headed for the farmers field of tall grass and the freeway beyond. I started to move just as fast as the fox and Dutch, yelling the "COME" command as my arthritic knees began to remember what it was to sprint.
As my mind began to leap ahead as to what I would do when both the fox and Dutch disappeared out of sight and into the camouflage of the alfalfa field…Dutch stopped in her tracks, pivoted and I am sure my clear command registered as, " Mama's got a treat for me – screw that red thing – I'm going for the biscuit"
You train and train, not knowing if it will pay off when you need it.  This time it did!!
Dutch not only got a handful of  biscuits, she also got much loving, big praise, and a few supervised laps around the pool to cool off from her jog down to the fox and her sprint back for a treat.
Both dogs are now asleep at my feet – exhausted…as for me, I am taking my pulse and hoping it will slow down.
I have always had labs, but this is the first time a dog of mine responded to my command in a critical situation…And I credit your training with that success.