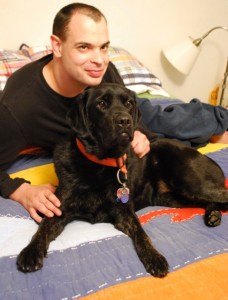 When I was contacted by Alec's family I was initially confused. Certainly, a dog that had been in training as a service dog wouldn't need obedience training. None-the-less, I happily agreed to a consultation. What I found was a lovely little dog that needed to learn to move with and to respond appropriately to her owner, Alec. And Alec needed to learn to trust his delightful companion, Specks.
After meeting Alec's parents, Alec, and Specks, it was easy to say "Yes" to training. I've never regretted that decision. I think it was "love at first sight" for me when I met both Alec and Specks!
Due to having cerebral palsy, Alec uses a walker and has limited use of his left arm. This required Specks learning to heel on the right side of her handler and on the right side of a walker at that. She also had to learn to drop just behind the walker when Alec had to navigate through tight spaces. Alec had to learn how to manage both his walker and a dog on leash.
I remember one lesson in particular on a day that Alec was feeling a bit 'testy'. He and Specks were both struggling with learning how to walk together as a team. On excellent advice I'd been given by my friend, Wendy Volhard, I literally put myself in Alec's place. I asked Alec to have a seat and to give me his walker. He replied, with just a bit of attitude, "Why do you need my walker, you can walk!" I explained to Alec that I needed to have a better understanding of his challenge. Once I put myself in his place in the walker with a dog on leash, it was easy to see that leash placement was going to make all the difference. One little adjustment and Alec and Specks were soon walking together with ease.
Alec had a goal in mind. He wanted to take and pass the test for Therapy Dogs International (TDI) with Specks. We trained together for several months with TDI certification set firmly in our sights. There were challenges along the way but, we pressed on and kept moving toward our goal.
As part of our training process we were blessed to make visits to a group of local veterans. I was amazed by Alec's ability to remember the details of those veteran's stories. I had trouble remembering their names. Not Alec – he remembered each man's name and every detail they shared about their lives and their service to our country. Alec had a gift for making those veteran's feel respected and appreciated.
Alec didn't always feel like training when I showed up but, train we did. I'd push a little to get him moving and always managed to get him motivated to work with Specks. To be honest, there were days that I didn't really feel like training but, the thought of getting to work with Alec and Specks always put a smile on my face. There is something special about working with a young man with a desire to make a positive difference in the lives of others and Alec's desire to pass the TDI certification was so he could give back to the community.
In the training testimony written by Alec's mother, Elise, she says that I changed Alec's life and that is a compliment that I treasure. Truth be known – Alec changed my life. I am blessed and far richer having Alec as a part of my life.