Training dogs of any breed and age! Results Guaranteed!
Start here if you are interested in a training program with Red Barn Ranch and Labradors, LLC
People are our passion! We strive to meet the needs of owners and their dogs, with personal attention and individual care, by offering programs that include private lessons and residency training.
We believe that training a dog should be both rewarding and fun. Through work and play, you can develop effective two-way communication and a healthy working relationship with your dog. With encouragement and reward, your dog can become a trusted and well-mannered companion.
We are excited to bring you these program options for training with your canine companion. Each of our programs provides personal attention and individual care, and are all designed to teach you to manage your dog's behavior and to set your dog up to succeed. We guarantee results!
---
Puppy Programs
(For puppies 8 weeks to 16 weeks of age.)
Adding a puppy to your family is a time of excitement, joy, and happiness. It can also be a time of stress as your rambunctious new puppy makes the transition into your home. There is no need to worry or struggle. Your puppy can learn to behave appropriately and can develop self-control, making him or her the envy of the neighborhood, and giving you a peaceful home. Our puppy programs will give you the confidence to work with your puppy and your puppy will develop essential behaviors.
---
 Programs For Older Dogs
(Ages 16 Weeks and Older)
We understand the pleasure and pride in owning a well-behaved dog and the happiness of enjoying your dog's company at home and in public. If you would like to experience the satisfaction of owning a dog that is welcome almost anywhere, the peace of mind in having a dog that comes when called, and the joy of taking your dog for a walk, a romp in the park or on family outings, then a training program with Red Barn Ranch and Labradors, LLC, is for you.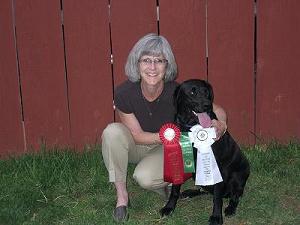 Programs marked with a * are also available as Boarded Training programs.
Coming for a visit is the best way for you to learn about our training programs, our guarantee, and our training methods. That way you can get to know us and we can get to know your dog. Contact us to schedule a visit.
Sandy is Certified through and a Professional Member of the International Association of Canine Professionals (IACP), a member of the Association of Pet Dog Trainers (APDT), an Approved CGC Evaluator, and is Insured by the Business Insurers of the Carolinas.