We typically produce one to two litters a year. Each of our litters is raised according to the Avidog method of Transformational Puppy Rearing, an extensive development and socialization program. This program includes walks on our farm, swims in the Shenandoah River (weather permitting), and visits from a variety of people, young and old. They also get to know the members of their canine family! You can learn more about Avidog here.
Scroll down for our Planned Breedings.
Before e-mailing us about a puppy, please read the following to be sure that we and our Labradors are a good fit for you:
What To Expect – What We Expect
Our preference for initial contact is through e-mail (see the link below).
Start here if you are interested in a puppy from Red Barn Ranch and Labradors, LLC


Planned Breeding – 2018
We estimate puppies in late May or early June.
This breeding will produce black and yellow puppies.
This is our third breeding between Bolo X Tilly and they produce lovely puppies.
(Scroll to the bottom of the page to see Tilly's pedigree)
(Click here to see what owners of our Bolo X Tilly 2016 Litter have to say.)
Call Name: Bolo
Am. Can. CH Windfall's Pipe Major X Am. Can CH Von Hausman's D'Star Fantasia
DOB 7/30/2006
Bolo has a wonderful temperament. He has wonderful coat, expression, and bone, which he passes on to his kids. He also has a great desire to retrieve.
Bolo completed his Junior Hunt Test title on September 28th, 2014 at the Mid Atlantic Retriever Club in Providence Forge, VA. Bolo competed in and passed four consecutive tests in two consecutive weekends to finish his title. In the word of his owner, Wendy Bonello, "His final retrieve will be forever engraved in my mind…for those of you that watch Modern Family…HE STUCK IT!!!"
Call Name: Tilly
Silverbrook's Irish Luck, MH X RBRandL Bella Grace, CGC, RA, CD
DOB: 10/21/11
Tilly is a joy to own. She's got a zest for life and determination that makes training with her a pleasure. Tilly earned the AKC Canine Good Citizen (CGC) title at the age of 6 months. Focused, eager to work and train, Tilly also possess wonderful drive. Like her mother, she is steady, easily motivated, intelligent and intuitive. A solid 55 pounds, Tilly is strong, fast, and energetic.  She is devoted, loving and an excellent family companion too.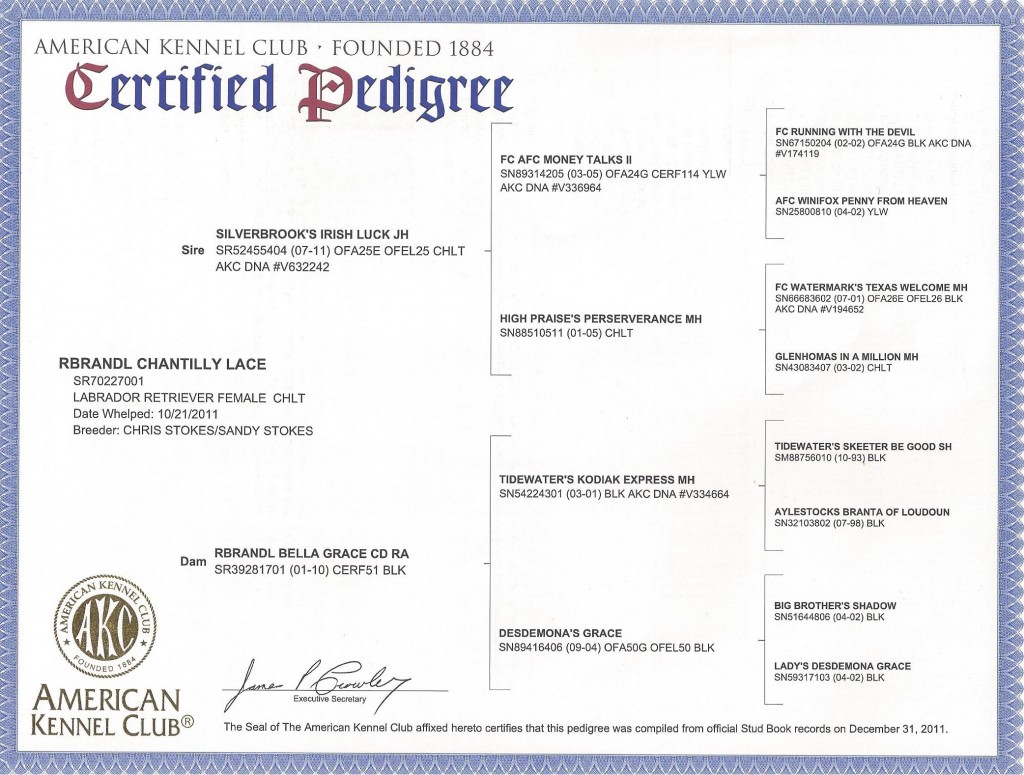 Red Barn Ranch and Labradors, LLC
1391 Mount Hammond Lane – Charles Town – West Virginia – 25414
304-725-2394