Start here if you are interested in a puppy from Red Barn Ranch and Labradors, LLC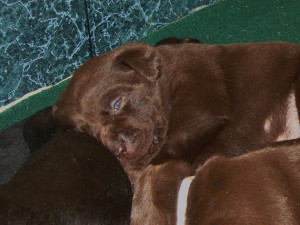 Reserving a puppy: Our puppies sell quickly and we recommend you make a deposit as soon as you have made the decision to purchase a puppy. Names are placed on our waiting list in the order we receive deposits. Deposits are non-refundable. If you have any questions please contact us and we will be happy to assist you.
Selecting a puppy: We'll ask you to identify the traits you are looking for in your Lab and will select a puppy for you that matches your personality preferences . Though you can not handle the pups until they are four weeks old, you can come and observe the litter. After four weeks, individual personalities develop and at the age of eight weeks we perform puppy aptitude testing to better match you with the perfect puppy. We encourage visits, phone calls, and e-mails from our puppy families.
For those unable to visit prior to puppy pick-up, we will post progress reports and pictures on our RBRandL Facebook page and our website as often as possible.
If you have questions about a particular pup give us a call.
Pick-up: Once the pups are born, we schedule pickup weekend at approximately eight weeks. If you are unable to pick-up your puppy on the scheduled pick-up weekend, we will charge you a daily boarding fee until you are able to pick up your puppy.
Payment Accepted: We will accept personal checks, money orders, certified checks, or cash for your puppy deposit. Final payment must be made by money order, certified check, or cash.
Info@RBRandL.com
(304) 725-2394
1391 Mount Hammond Lane – Charles Town – WV – 25414