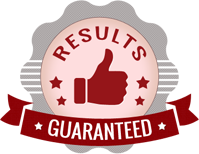 Guaranteed??? YES!!!
Our training programs will get the results you need because:
We limit the number of dogs we train to ensure that your dog receives our customary "personal attention and individual care".
We don't just train your dog, we train you, too. We teach you what you need to know to maintain your dog's training.
Training is what we do – period! Training isn't our hobby and it isn't a part-time job. We train dogs full time.
And, because we want our training programs to work well for every family we give them our full attention.
You also have the support of your personal dog trainer for the life of your dog.
Our peaceful country setting sets the stage for calm, productive training.
All of our programs include unlimited support, and many include free refresher training, and free follow-up.
We appreciate the investment you are making in training for your dog and our guarantee gives you peace of mind that you've made a solid investment!